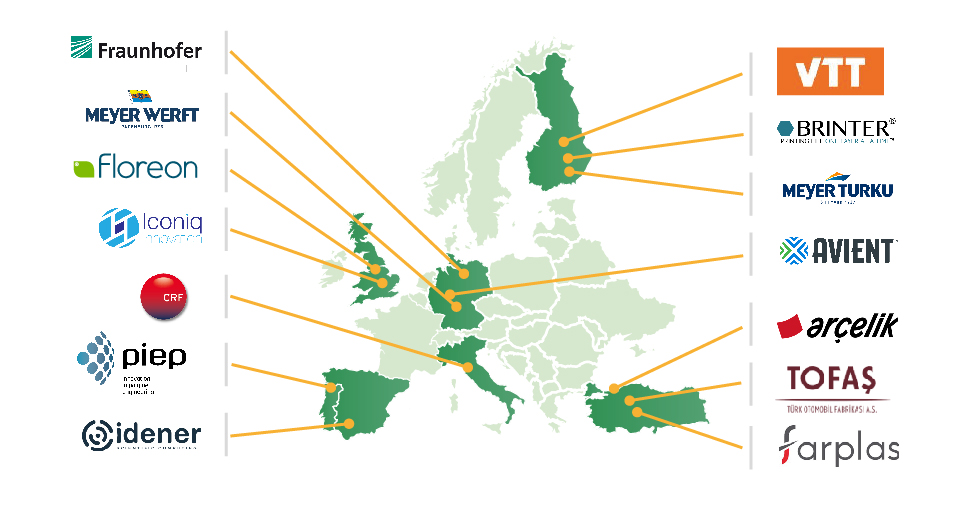 ---
Iconiq
"Iconiq Innovation is an enterprise with businesses based in Ireland, Spain and the UK with an expanding team of staff spread across Europe. Iconiq provide business consultancy services covering the entire innovation spectrum from conception through to commercialisation supported through securing R&D funding and helping deliver and maximise the impact of project outcomes.
Within VITAL, Iconiq will lead Innovation Management and be a key contributor to communication, dissemination, exploitation activities."
Web site: https://www.iconiqinnovation.com/
---
VTT
"VTT is a visionary research, development and innovation partner. We are one of Europe's leading research institutions. We are owned by the Finnish state. We advance the utilisation and commercialisation of research and technology in commerce and society. Through scientific and technological means, we turn large global challenges into sustainable growth for businesses and society. We bring together people, business, science and technology to solve the biggest challenges of our time. This is how we create sustainable growth, jobs and wellbeing and bring exponential hope."
Within the vital project, our role is linked to the development of related 3D printing tasks and the materials and process optimisation for Bio-based ThermoPlastics, by means of modelling through a high-performance computing environment.
Web site: https://www.vttresearch.com/en
---
The Fraunhofer Institute for Interfacial Engineering and Biotechnology IGB
develops and optimizes processes, technologies, and products for health, sustainable chemistry and the environment. In doing so, we rely on the unique combination of expertise in biology and the engineering sciences in order to contribute to human welfare, a sustainable economy, and an intact environment with the systems approach of bioeconomy as well as bioinspired, biointegrated and biointelligent solutions. Our vision ist to combine biology and engineering.
Within in the VITAL project, we provide the monomer for the newly developed 100% biobased polyamide Caramide.
Web site: https://www.igb.fraunhofer.de/en.html
---
Fraunhofer Institute for Applied Polymer Research (Fraunhofer IAP)
The Fraunhofer Institute for Applied Polymer Research IAP specializes in the development of polymers, nanomaterials and composites to master challenges such as climate change, energy transition, dwindling resources, diseases or structural change. We develop innovative materials, tailor-made processes and efficient technologies along the entire value chain for companies and partners – from the idea to the industrial-ready prototype.
Within the VITAL project we are focussing on the development of novel biobased polyamide materials suitable for foaming applications.
Web site: https://www.iap.fraunhofer.de/en.html
---
Fraunhofer institute for chemical technology (Fraunhofer ICT)
The Fraunhofer institute for chemical technology is one of 72 research institutes of the Fraunhofer Gesellschaft (FhG) throughout Germany. With a total of about 25,000 employees and a total budget of about 2.3 billion euros, the FhG is the largest applied research institution of its kind in Europe (figures as of 08/2018). The clients of the FhG are industry and the public sector, for example the Ministry of Research, and in the case of the ICT also the Ministry of Defense. The ICT currently has about 540 employees and the annual budget is around 40 million euros. In the department of polymer engineering the ICT conducts research and development in the fields of thermoplastic, thermosets, and fiber-reinforced plastics thereof. The group of foam technologies of the ICT deals with all kinds of thermoplastic foams and can draw on various technologies for foaming like autoclave, direct extrusion, or bead foaming.
Web site: https://www.ict.fraunhofer.de/en.html
---
Farplas
With its +50 years of experience, Farplas is a leading automotive Tier-1 company which designs, develops and manufactures plastic components for global automotive OEMs. Farplas has the vision of being an innovative and global company holds the leadership in Turkiye's automotive and mobility ecosystem. Co-developing with OEMs, companies, and research institutions from all over the world, Farplas is a solution partner with skilled human resources, 3 manufacturing sites and 2 R&D centers in Turkey and 2 design centers in abroad. Industry 4.0 applications for manufacturing excellence, lightweighting materials & vehicle parts, smart mobility technologies and electrification are the strategic research focuses of Farplas. While having vision to be the innovative and global brand in the transportation and digital transformation ecosystem and holding the leadership in Turkiye, Farplas collaborates with stakeholders from different countries to develop innovative projects, to enhance technology level of business and to improve novel technologies.
Main role of the Farplas will be to specify, validate and demonstrate of the b-bTP substitutes for synthetic PP for internal automotive parts as Stellantis Tipo and Stellantis Doblo B Pillar Lower components. During the project, Farplas will use heat cool technology for moulding of demonstrator components and work with TOFAŞ to develop and demostrate these components.
Web site: https://farplas.com
---
Arçelik
With over 40,000 employees throughout the world, Arçelik's global operations include subsidiaries in 49 countries, and 28 production facilities in 9 countries and 12 brands (Arçelik, Beko, Grundig, Blomberg, ElektraBregenz, Arctic, Leisure, Flavel, Defy, Altus, Dawlance, Voltas Beko). Our vision is to rejuvenate ourselves and our industry to become a trusted lifestyle solutions provider to the digital household. We have 28 production Facilities spread in 9 countries.
Web site: https://www.arcelikglobal.com/en/company/about-us/overview/
---
Idener
IDENER Research & Development is the IDENER division focused on the R&D activities of the group. Specifically, IDENER R&D investigates the multidisciplinary field of Computational Science and its application of systems and processes in key areas: Industrial Technologies, ICTs, Biotechnology, Energy, Resource and Raw Materials Efficiency.
IDENER R&D will lead the Sustainability activities of the project, such as Life Cycle Assessment or societal-impact analysis, and will also take care of communication and dissemination activities. Finally, in collaboration with other partners, IDENER R&D aim to achieve a Foam Injection Moulding (FIM) processing approach based on a Digital Twin with virtual AI control.
Web site: https://www.idener.es/
---
PIEP
Centre for Innovation in Polymer Engineering – is a reference entity in the area of Polymer Engineering that supports the industrial needs of R&D+i worldwide, through the development of polymer-based systems and solutions with a multisectoral scope.
With over 20 years of activity, PIEP provides an excellent response in the delivery of products and services, oriented to the R&D+i needs of companies in the plastics and related sectors, through innovation activities, technology transfer, and technical-scientific consultancy, training, and service provision.
PIEP acts in terms of the provision of testing services and failure analysis, development of new materials and products, processing technologies, and productive tools, based on the promotion of the principles of sustainable development (Circular Economy and Environment).
PIEP also contributes to training, supporting the development of human resources with capacity and experience in industrial innovation in the field of polymer engineering.
Web site: https://www.piep.pt
---
Brinter
Brinter® is the culmination of over 20 years of 3D printing expertise and bio research.
Brinter is a trailblazing Finnish bioprinting company. We provide comprehensive 3D (bio)printing technology, solutions and services. We strive to learn our client's specific applications and needs. Therefore, each Brinter® 3D (bio)printer is custom-built just for your production or R&D needs.
Web site: https://www.brinter.com
---
Floreon
Floreon is a plant-based plastic, derived from crops such as corn and sugar cane, making it a renewable alternative to oil-based plastics.
We are an award-winning sustainable materials technology company that's developed unique patented formulations to take a plant-based plastic (PLA) and enhance its performance, allowing it to compete with engineering polymers in several demanding applications.
Floreon can be used in electrical applications with our specialist formula with added flame retardance (Therma-Tech), and your product can be held to the same tough standards you expect with our durable range (Dura-Tech). For disposable applications we've developed Floreon Bio-Tech, which will degrade in industrial composting along with food waste where traditional mechanical recycling is not an option.
Floreon will play an active role in the VITAL project in specifying and developing blends for 3D printing, bead foaming and injection moulding. This will include guidance on appropriate testing and material optimisation for different processes.
Web site: https://www.floreon.com/
---
Avient
Avient Corporation (NYSE: AVNT), with 2021 revenues of $4.8 billion, provides specialized and sustainable material solutions that transform customer challenges into opportunities, bringing new products to life for a better world. Examples include:
Unique technologies that improve the recyclability of products and enable recycled content to be incorporated, thus advancing a more circular economy
Light-weighting solutions that replace heavier traditional materials like metal, glass and wood, which can improve fuel efficiency in all modes of transportation and reduce carbon footprint
Sustainable infrastructure solutions that increase energy efficiency, renewable energy, natural resource conservation and fiber optic / 5G network accessibility
Avient employs approximately 8,700 associates and is certified ACC Responsible Care®, a founding member of the Alliance to End Plastic Waste and certified Great Place to Work®.
Web site: https://www.avient.com
---
Tofas
Tofaş's production capacity, export performance, R&D competencies, and workforce of nearly seven thousand make it one of Turkey's leading industrial concerns.
Turkey's trailblazing automotives manufacturer, Tofaş was founded in 1968.
24.3% of Tofaş's shares are traded on the İstanbul stock exchange and are included in both the BIST 30 and the BIST 100 indexes; control of the remaining shares is divided equally between Koç Holding and FCA Italy SPA. Tofaş's publicly-traded shares are also included in the İstanbul stock exchange's Corporate Governance and Sustainability indexes.
Web site: http://www.tofas.com.tr/en/Pages/default.aspx
---
CRF
CRF mission is to develop and transfer innovative powertrains, vehicle systems & features, materials, processes and methodologies together with innovative expertise in order to improve the competitiveness of STELLANTIS products. To represent STELLANTIS in European and National collaborative
Within Vital: Final demonstrator components from CRT and MT/MW determined and specified and appropriate processing method (printing, bead foaming or both) determined for b-bTPs.
Web site: https://www.crf.it/EN
---
Meyer Werft
Founded in 1795 and based in Papenburg, MEYER WERFT GmbH & Co. KG is owned by the seventh generation of the Meyer family. The company, rich in tradition, employs more than 3,500 people. MEYER WERFT's extensive production program includes a wide variety of ship types, from cruise ships to gas tankers and research vessels to car and passenger ferries. In 2021, MEYER WERFT has announced its intention to build mega yachts as well. In order to survive in the global competition, the production facilities have been continuously improved and expanded. Today, MEYER WERFT has the most modern facilities in shipbuilding.
Within the VITAL project MEYER leads the demonstrations of the usecases and evaluates the feasibility of marine applications.
Web site: http://www.meyerwerft.de
---
Meyer Turku OY
MEYER TURKU OY, family-owned by Meyer family, is one of the leading European shipbuilding companies. The successful shipbuilding tradition in Turku shipyard has been continuing since 1737 by Meyer Turku and its predecessors.
The company provides state-of-the-art technology solutions, advanced construction processes and cutting edge innovations for cruise operators and other ship owners. We are a reliable partner for designing and building innovative, tailor-made cruise vessels and ferries according to the customer's needs. The ships built in Turku shipyard are known to be the safest, most environmentally friendly, comfortable, reliable and energy efficient in the industry. Over the years the shipyard has built more than 1,300 new ships for customers around the world.
MEYER TURKU has over 1,800 employees and is a major employer in Southwest Finland but also throughout the maritime network in Finland. To be able to build today's magnificent ships, the shipyard works closely in co-operation with an effective and efficient network of suppliers. All combined, the Finnish maritime cluster employs over 30, 000 people. The cluster is a network of all actors involved in technology, education, training and manufacturing, formed around the maritime industries and shipping.
Within the VITAL project MEYER leads the demonstrations of the usecases and evaluates the feasibility of marine applications.
Web site: https://www.meyerturku.fi/en/