We're pleased to present the Month 12 newsletter for the VITAL Project. Read on to find out more about the technical developments we've made so far, the meetings and events we've held, and collaboration with our sister projects AMBIANCE Project, BIO-UPTAKE, Horizon EU Green-Loop, New Wave project, and Waste2BioComp through the BIO-MATTERS cluster.
VITAL Newsletter – Our first 12 months
October 2023
Biobased thermoplastics made from renewable biomass present a more sustainable alternative to fossil-based plastics. However, widespread adoption of biobased thermoplastics as a replacement for fossil-based
thermoplastics is held back by:
i) processability challenges; ii) inadequate longevity and performance; and iii) recyclability challenges.



VITAL brings together a pan-European consortium of leading RTOs, innovative SMEs and industrial manufacturers to address these challenges by developing innovative thermoplastic processing solutions for foamed thermoplastics, based on three biobased thermoplastic processing value chains:
i) 3D printing processes based on granulated feedstocks;
ii) Bead foaming processes; and
iii) Foam Injection Moulding (FIM) processes.

In addition to process innovation, VITAL will develop new biobased thermoplastic blends that are optimised
for high strength and flame retardance, whilst enabling high rates of recyclability. The materials and processes developed in VITAL will be demonstrated across multiple applications through the production of bio-based thermoplastic parts for white goods, automobiles, and ship interiors.

Site visits and M12 General Assembly meeting

VITAL held its 3rd General Assembly in Istanbul, Türkiye, between the 5-7th of June 2023.
The meeting was coordinated to overlap with a General Assembly for the REVOLUTION project. The General Assembly included site visits to FARPLAS and ARÇELIK facilities in Kocaeli, just outside Istanbul, and a visit to TOFAŞ in Bursa.

The meeting was a great success, with work package leaders updating the consortium on progress in the first 12 months, and many fruitful discussions about the remaining challenges and direction of the project going forward.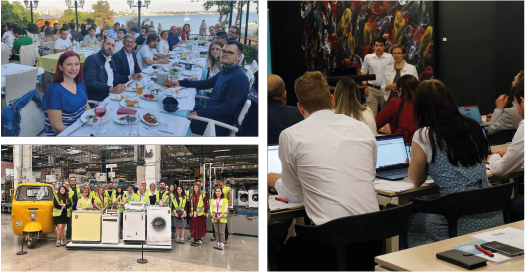 Updates on process development lines
VITAL's first 12 months has gone to plan, yielding many interesting and important results on which to build in
the coming years. A brief outline of the headline developments follows:

Work Package 2. Value Chain 1: 3D Foam Printing. The design of a new 3D foam printing head has been completed and all parts to build it have been ordered. Two models have been built: i) A 3D foam extrusion model using computational fluid dynamics; and ii) an extrusion model based on heat exchanger to enable control of gas concentrations.

Work Package 3. Value Chain 2: Bead Foaming and bead foam processing. A range of biobased polymers and additive formulations for generic structures and end-user applications were selected for testing. Early trials in bead foam process optimisation and bead foam moulding process optimisation began, producing foams with good fusing behaviour.

Work Package 4. Value Chain 3: Injection moulding and foam moulding. The most promising samples for foam injection moulding were selected and injection for characterization was undertaken. Stage 1 testing of these samples is complete, and stage 2 of testing is underway. Results will feedback to optimisation activities to improve the foam injection moulding process.

Work Package 7. Training, Dissemination, Exploitation and Communications.
Work Package 7 covers a range of activities including work to develop the project's identity and to attract an audience for communication and dissemination of results and plans to exploit the results after the project. Initial work has focussed on defining and updating information on the value chain for exploitation and developing a register of relevant stakeholders. Online communication efforts (see below) have helped us build an audience of over 200 early followers on LinkedIn.
Dissemination & Communication
VITAL project has been presented at a number of meetings during this period including: EEFRA Made in Europe Project meetings (online); Tappi Place (Bratislava, Slovakia); VIII International Conference on Biopolymers and Sustainable Composites (Valencia, Spain); Hannover Messe (Hannover, Germany); Ekstruusiopäivät (Helsinki, Finland); Plastics Recycling World Expo (Essen, Germany).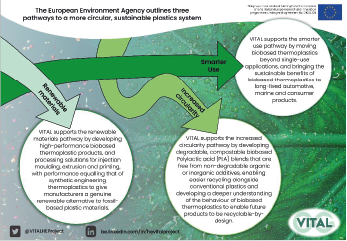 VITAL online
Work to develop an audience for the VITAL has focused on developing articles about the context and need for the project, and the solutions it is developing. We also ran a successful "Meet the Partners" series to raise the VITAL's profile by introducing the consortium and the expertise they bring to the project.
Information about VITAL can be found on the webpage (https://vital-project.eu/) and through articles posted on the LinkedIn page (www.linkedin.com/in/hevitalproject).
VITAL video
The first VITAL video is live! Produced by Tale Productions, the video was filmed with the partners and includes footage from partner facilities at ARÇELIK, TOFAŞ, MEYER WERFT and FRAUNHOFER.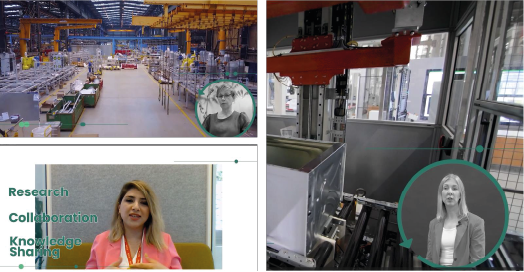 BIO-MATTERS cluster collaboration
In August 2023, members of VITAL joined the inaugural BIO-MATTERS cluster meeting. This brings together communication and dissemination specialists from VITAL and its sister projects from the HORIZON-CL4-2021-TWINTRANSITION- 01-05 call.
AMBIANCE is applying circularity-by-design approaches to develop new and advanced bio-based products. Considering the different types of reuses, remanufacturing, recycling, biodegradation or energy recovery to enhance sustainable models, the project will couple this approach to the optimisation of the mechanical properties for particular applications, including artificial turf, outdoor furniture and construction bricks.
BIO-UPTAKE is developing flexible manufacturing processes to produce biobased end products, based on the combination of intermediate formats made of natural and/or biobased synthetic fibres reinforced with biopolymers, for the construction, medical and packaging sectors.
GREEN-LOOP will design and optimise three innovative bio-based materials and components for the construction, packaging, food, beverage, appliances and tooling sectors under a circular-business perspective.
NEWWAVE will select product lines to fully exploit the unique chemical functionalities from biomass residues and organic waste streams. The concept includes wastewater treatment and water reuse. NewWave will also introduce wood-based products for the construction industry to replace steel and concrete as structural components, modified wood to replace chemically treated wood for outdoor use, and medium-density fibreboard (MDF) and plywood for interior usage.
WASTE2BIOCOMP that aims to demonstrate relevant scale production of bio-based products and materials as alternatives to one's with a large environmental footprint, using innovative manufacturing technologies. It will focus on the following applications: shoe soles and insoles; plastic films and packages; bio-based textiles; and printed substrates.
The BIO-MATTERS cluster members undertook guided brainstorming to identify ways in which these projects can collaborate. VITAL has committed to organising a shared stakeholder mapping activity to identify common stakeholders and leverage the cluster's wider network to drive engagement.
Upcoming Events
Members of the VITAL consortium are planning to attend and present at the following events shown below: